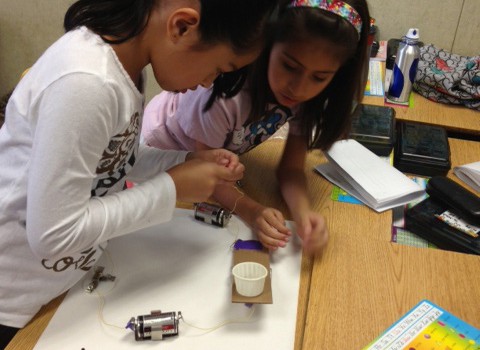 The last few weeks of school have teachers wrapping up curriculum units and review sessions as annual state testing windows close. Now is the perfect time to for all those great engineering activities you may have been postponing. In Northern Virginia we teach until the third week in June, so we always look forward to time that is "ours" to schedule.
We indulge in two solid weeks of science and engineering and the kids love it. Messy science has us making silly putty, dissecting cow eyes and owl pellets. It also has us doing impressions of mad scientists as we "bubble, bubble, toil, and trouble " our way through experiments with dry ice. A field-trip to the Smithsonian Environmental Research Center on the Rhode River provides hands on marine science as we study the Chesapeake Watershed by participating in seining, water testing, gathering plankton, and crabbing. As a bonus, students are able to see scientists performing real science experiments.
But the time to indulge in engineering projects is truly savored as we build cars out of vegetables and fruits and conduct veggie car races. Friction, gravity, and acceleration take on a whole new meaning when you are trying to use onions as wheels and a cucumber as a chassis. Hovercrafts made out old CDs and rockets made from straws never fail to excite everyone. Catapults built from paint stirrers and spools combined with stale peeps create a terrific version of Angry Birds. Finally, who doesn't like to break a few eggs? An all- school structural engineering STEM activity is just the ticket. Students build shock absorbing egg protectors that are launched from the roof of the school by the teachers and administrators.
Limited time? Short Engineering Energizers can be the perfect introduction to engineering for a class. We have rounded up a half dozen lessons that will have your students gearing up for engineering. We have posted them on our lessons page. Each activity takes an hour or less and uses just a few materials that you already have around your classroom. They're great for fitting into that limited time between the awards assembly and field day. And best of all, it will provide wonderful memories of the last days in your classroom.
We hope you Get Caught Engineering this month!
Wendy and Cheryl
https://www.facebook.com/GetCaughtEngineering