TESTIMONIALS
Impressive! You make teaching STEM a breeze. For a newbie, like me, your lessons are simply amazing. Instead of feeling overwhelmed, I just get excited because the steps are all laid out.
Thank you! Like I've said before, your lessons make the teacher look good because students love them!

My kids love all of your activities! I love them because they're so easy to prep for and the kids are so excited when we do them!! Thank you!!

The variety of premises and lessons will appeal to many students. Really like the detailed teachers notes. I also find the ideas for substitutes helpful. Can't wait to use these lessons.

Themed engineering projects students are sure to love. I like the flexibility these lessons offer by giving ideas to vary criteria. Giving the students the opportunity to decorate and personalize their structure is great. Thank you for wonderful STEM lessons.

This is so perfect! You have the best things and this is as great as all the other items I have used of yours. Thanks for all of your time and hard work!!

After using your lessons, I saw great growth in their ability to plan, change ideas, and try again

What fabulous activities! I love how you've got everything set up and it's so easy for the teacher to launch.

My students get very excited when they see we are doing one of your lessons

My student have loved every one of your lessons
Starting a STEM program in your class or school? The first step in implementing an engineering program is teaching your students the engineering design process. Our primer includes a simple explanation, the NGSS standards, and the design process poster. We have also included group role cards and a helpful list of inquiry questions. You can either enlarge and display the poster or make copies for your student's STEM notebooks.
The Prince needs your students' help. He is trying to get to Sleeping Beauty's castle and has encountered a river that his horse will not cross. He needs your students to build a platform bridge so that he can proceed to the castle. Time for structural engineering! Students will use what they know about the strength of shapes and materials to design and build a platform bridge that can hold weight. Included are student handouts, teacher notes, and a rubric.
With a gummy worm, gummy lifesave, a cup, and a paperclip, students will work in teams of two to solve a STEM challenge. Based on a popular STEM activity, we have added the engineering design process to this free activity. Perfect for an introduction to engineering in grades K-6 or a staff workshop.
No time for an in-depth engineering lesson? Have some foil? A small plastic tub of water? Some pennies? You are good to go! Our Foil Boat Engineering Energizer is just the ticket for a quick STEM lesson that provides a challenge, group problem solving, and a "brain push-up" in a short amount of time with just a few materials. An easy way to integrate engineering into your day! Try this freebie with your class or at a teacher workshop to introduce them to STEM.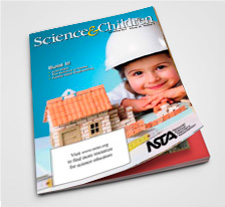 Read our latest article in the NSTA Science & Children Journal.
Please try these lessons with your classes and if you like what you see, visit our store at: