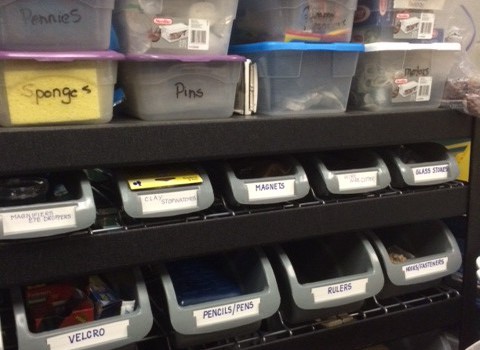 One of the best things about starting an engineering program is that most of the materials are items that are already found in school – pipe cleaners, craft sticks, tape, rubber bands, paper clips and brad fasteners. Much of the rest are easily collected and brought in from home – cardboard, toilet paper and paper towel rolls, tooth picks and rinsed out recyclables like yogurt containers. We were elated with the low cost of beginning our program!
We immediately sent out a school-wide request to the staff for the above materials and even included a small prize to the teacher who collected the most. Then we approached our principal and naively asked if we could have a corner to put up a shelf for our materials. A mere week later, standing in literally knee deep materials in trash bags, we realized that we had made a serious miscalculation. This was not a program that could be managed from the corner of a closet. Although having a steady source of materials might not be a problem, the storage and retrieval of items was a huge problem that needed an immediate solution.
Because of our principal's commitment to the success of our engineering program, we were able to take over and set up an engineering room in a small conference room. Next, we secured funding from our school business partner to purchase storage shelves. Now, our challenge was to find shelves that would meet our needs. We wanted something that would not only allow for the storage of various sized items but would avoid having to store everything in stacked plastic boxes that would hinder easy retrieval. Browsing in Costco one day, we found our "dream shelves" for the great price of $79.99. The shelving unit holds various sized bins that keep the materials visible and organized. The bins can be labeled and easily slide out when we need something. Because everything is visible, taking inventory is a breeze. Using two of these storage units to hold most of our smaller items, we requested several other more typical closets with shelves to hold our books and engineering kits. These were closets that had been discarded from other schools in our district. We were now in business.
As our program continues to grow – and materials increase, the storage and easy retrieval of specific items continually needs to be addressed. When we began the program, we were committed to placing no increased demands upon the staff. They would notify us of an approaching lesson, and we would put together kits for the students. Although we can easily put together these kits, our biggest challenge right now is having a system to return the leftover items to the proper place when materials are returned to us. Too often boxes of partial kits are stacked up, waiting for some future date when we have time to take them apart and return each item to the proper place. This future date is usually when we can no longer easily walk in the room! It is now time to involve our teachers in helping us organize materials before returning them, so we can more quickly put away the items in their proper place. We are working on instructions for the teachers that will accompany the kits this year and are also exploring the possibility of using sixth grade volunteers as part of their required community service hours.
As you can see, although we started out with the goal of teaching the engineering design process to our students, we didn't realize that we would have to don the hat of a system engineer to keep our program running smoothly. And like most engineering solutions, it is one that needs constant review and improvement.