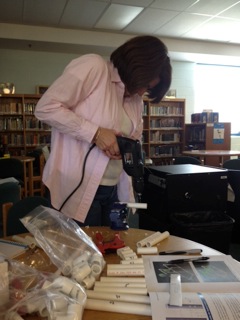 Robots, water tanks, tools…..ingredients for a great day in the classroom and part of an amazing STEM program that is available for students in grades 5-12.
Last spring, Cheryl and I were lucky enough to be part of a teacher training program for Seaperch, an innovative underwater robotics program that equips teachers and students with the resources they need to build an underwater Remotely Operated Vehicle (ROV) in an in-school or out-of-school setting.
With the help and encouragement of Toby Ratcliffe of the Naval Surface Warfare Research Center at Carderock, we built the ROV from a kit comprised of low-cost, easily accessible parts, and we were introduced to a curriculum that teaches basic engineering and science concepts with a marine engineering theme.
We are now looking for funding to bring this program to our school for our older students. The Seaperch program will provide our students with the opportunity to learn about robotics, engineering, science, and mathematics (STEM) while building an underwater ROV. It easily aligns to the national science standards and lends itself well to interdisciplinary projects. And it is REALLY COOL!!
You can learn more about this amazing program by checking out the website: Seaperch.org. You will find not only detailed information about the program, but also contacts for help and training in your area, funding ideas, and great STEM resource materials.