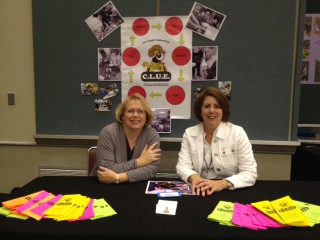 STEM and engineering are the hot buzzwords in media, political circles, and educational journals these days. But it is not a new concept in some states. From Minnesota to North Carolina, educators have been incorporating engineering problem solving into the elementary curriculum for a number of years, For the past 17 years the Virginia Children's Engineering Council has sponsored an engineering conference for teachers each February. The two-day event has workshops, classes, speakers, and networking opportunities that provides up to date information for engineering ideas in the classroom. Virginia has truly been ahead of the STEM curve.
Cheryl and I attended this year's conference in Richmond Virginia. One of the great parts of conferences beyond the workshops is visiting the venues and chatting with the exhibitors.
We found a great resource of engineering material that is based in Canada – Kidder: Technology-Education- Crafts www.kidder.ca. From ready to go kits to bulk items for the classroom, they had a wealth of materials available to be shipped to one's school. We ordered these amazing pneumatic arm kits that were very reasonable priced at $24 per kit. We can't wait for it to arrive for our students!
We also were enthused about the Virginia Wind for Schools program that is part of the Virginia Center for Wind Energy at James Madison University. www.windpowerVA.org They have all kinds of materials including small wind turbines to introduce this important concept to elementary students.
If introducing engineering careers to students is on your agenda, Virginia Tech University has all that you would need at www.vacareerview.org
While there, Cheryl and I presented a workshop called Classical Engineering, which focused on integrating great classic literature with engineering concepts. After an overview of how to begin, we provided two lessons and had the group try their hand at making a ping pong ball "fly" on a zip line for our Peter Pan activity. The zip line we provided for the activity was a big hit! Only at a teacher's convention would an item made of fish line and wood get the attention from a camera-wielding group with the enthusiasm normally reserved for a Hollywood star and the paparazzi!
Next year's conference is already scheduled and is expected to be huge. Mark your calendar for February 20-21,2014 and plan a trip to Richmond, Virginia…. where you will find sweet tea, grits, and a children's engineering extravaganza!
www.childrensengineering.org
Hope you Get Caught Engineering this month!
Wendy