Thanksgiving morning has finally arrived! We are excited, but maybe not for the reasons you think. Turkey, stuffing and pumpkin pie are all wonderful traditions. But in our homes, the first thing we think of is the Macy's Thanksgiving Day Parade. We grab our breakfast and coffee and settle down to be entertained for 3 glorious hours.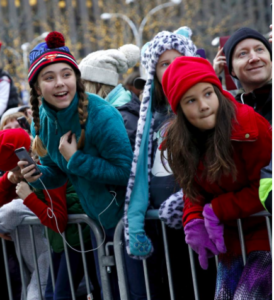 Each year more than 3.5 million New Yorkers line the street to watch the parade. Fifty million television viewers tune in to enjoy everything from marching bands to Broadway show tunes, floats and the celebrated giant character balloons. The parade is a masterpiece of planning, organization, creativity, and STEM.
Yes, STEM!  Science, Technology, Engineering, and Math.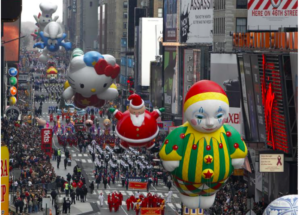 Although the Macy's Thanksgiving Day Parade has all the traditional components of a parade, the unique stars of the parade are the large character balloons. They are amazing to see, whether you are there in person or watching on TV. Those amazing balloons provide great examples for STEM lessons. We love using the parade as a theme during November and were delighted a few years ago to find the book "Balloons Over Broadway" to support our lessons.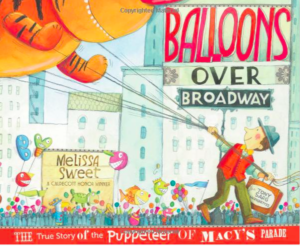 Balloons over Broadway: The True Story of the Puppeteer of Macy's Parade ,by Melissa Sweet, tells the story of Tony Sarg, a puppeteer, who was the original creator of the giant helium balloons of the Macy's Thanksgiving Parade. As a child he loved puppetry and making them move. When he grew up he became famous for his marionettes. which led to him creating a puppet parade for Macy's. Eventually the puppets were replaced by large balloons. The book is a wonderful read aloud with enchanting illustrations. It leads to a great discussion of how Tony Sarg solved problems and developed innovative ways to display and use his giant figures.
With "Balloons Over Broadway" as our starting point for our unit, we have been able to integrate reading, research, science, technology, engineering, and math during the busy week before Thanksgiving. Our STEM and Stories series provides students pages and teacher notes for this wonderful picture book.
STEM and Stories: Balloons Over Broadway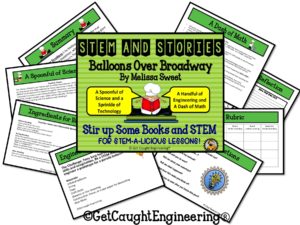 The S in STEM – Science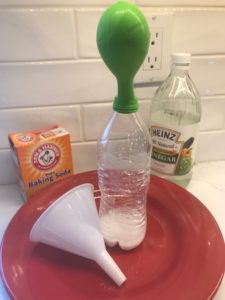 The Macy's Parade uses helium to inflate the gigantic balloons. Using helium would not be practical in the classroom so we challenge the students to create a different gas that is lighter than air. This is accomplished by making a gas from baking soda and vinegar to inflate a balloon.PBS-Science of Ballooning
The T in STEM – Technology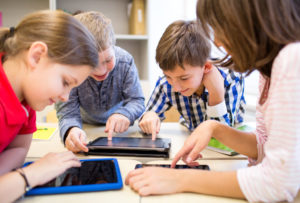 Next we head to our computers to conduct research on the parade and balloons.
How Stuff Works ; Macys Thanksgiving Parade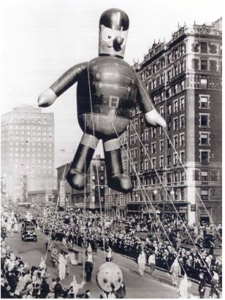 Official Site for Macy's Parade
The E in STEM – Engineering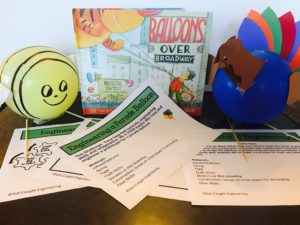 Our favorite part, of course, is an engineering challenge. After browsing through the various sites about the parade, the students are now ready to problem solve and create a small prototype for a parade balloon using dowels, balloons and paper decorations. We encourage them to use their imaginations and create a unique balloon that they would like to see in the parade.
The M in STEM – Math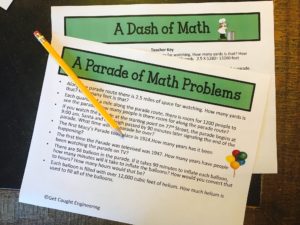 As part of our unit with Balloons Over Broadway, we have the students strap on their thinking caps and solve a variety of math problems involving real facts about the parade. There are numbers galore including: 2.5 miles for the parade route, 12,00 cubic feet of helium to fill the balloons, 1200 people watching very quarter mile, 90 minutes to fill each balloon with gas.
Additional Parade Resources
In addition to our integrated packet STEM and Stories: Balloons Over Broadway ,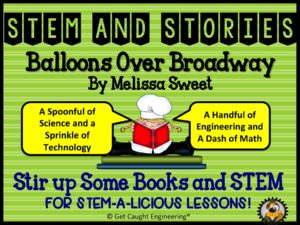 we have used the following parade resources for our classroom activities:
Balloons Over Broadway Activity Packet from Publisher and Author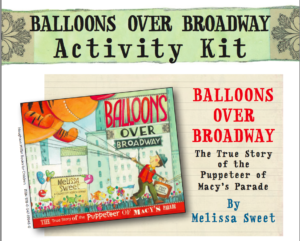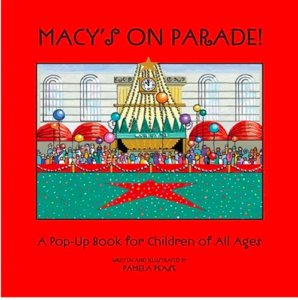 Macy's on Parade: A Pop-Up Celebration of Macy's Thanksgiving Day Parade
Macy's Thanksgiving Day Parade (NY) (Images of America)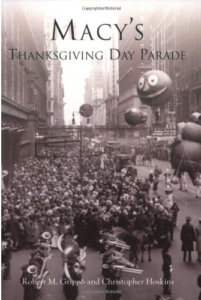 Milly and the Macy's Parade (Scholastic Bookshelf: Holiday)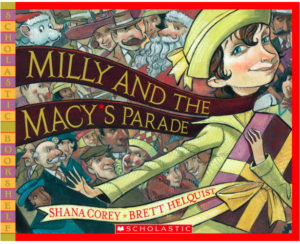 The Macy's Parade and the delightful "Balloons Over Broadway" provide a wonderful platform for STEM integrated lessons in November. We hope your students 'Get Caught Engineering' with ideas from Balloons Over Broadway and the parade.
Wendy and Cheryl
Get Caught Engineering
Want more STEM Ideas for November? There is a goldmine of activities at the STEM Activities for Kids website!
We are a participant in the Amazon Services LLC Associates Program, an affiliate advertising program designed to provide a means for us to earn fees by linking to Amazon.com and affiliated sites. The fees provide a source to support our costs of maintaining a website.
SaveSave
SaveSave
SaveSave
SaveSave
SaveSave