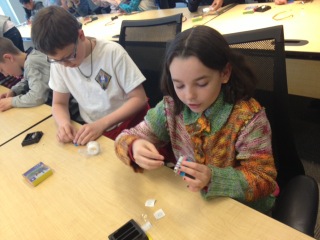 Kids love robots, no doubt about it. The topic lends itself to an all-inclusive exploration of STEM. As motivating as robots can be, the reality is that the expense of adding a robotic curriculum to the classroom is beyond most teacher's budgets.
Fortunately, a company in Hawaii has developed a robot product that is inexpensive and easy to build. Bristlebots LLC was founded by students of FIRST Robotics team 3008 as a community outreach initiative and fundraiser. Using small motors, a toothbrush head, and a battery, they created kits to make the "bots". Profits from the company finance their high school robotic team and other STEM projects in their community.
Each bristlebot kit includes the following: (1) instructional box, (1) custom toothbrush head, (1) vibrating motor, (1) battery holder, (1) AAA battery, (3) GluDots, (3) small rubber bands, (1) large rubber band, (1) chenille stem, (2) wiggle eyes.
The website, Bristlebot.org, has a store to easily order the kits. And they have now added a free downloadable teacher workbook that is excellent! The Bristlebots Design Workbook is created to aid educators to easily integrate the Bristlebots into the STEM curriculum. The workbook introduces various activities and lesson plans that works to stimulate minds of students and encourages them to "think outside the box."
The Bristlebots kits provided by Bristlebots LLC provides an easy and cost effective introduction into the world of robotics and STEM. Cheryl and I have used them with our fourth graders and at our Family Engineering Night. The students love them!
For the most current list of cool engineering treasures that we have found, "like" http://www.facebook.com/GetCaughtEngineering
We hope you "Get Caught Engineering" this month!!