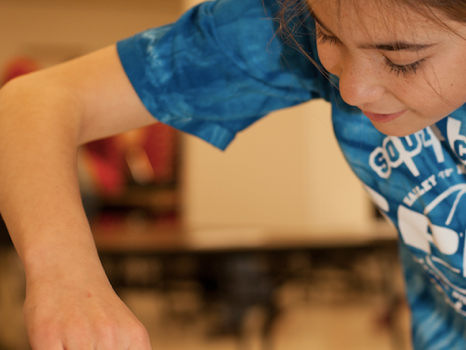 You may have watched the Super Bowl for the football, but some of us were anxiously awaiting the GoldieBlox commercial during the second half. In case you missed it, GoldieBlox, a new toy company that focuses on engineering toys for girls, won a contest to have a commercial produced and then shown during the Super Bowl. No small feat indeed! It was great fun to watch and quite a celebration of girls and STEM. In this time of technology toys that are mostly targeted at boys, it is refreshing that there are other groups actively working to provide a different message to young girls.
Recently, we had the opportunity to attend a workshop at the University of Maryland sponsored by PBS's Scigirls and National Girls Collaborative Project.
It was a great day collaborating with other professionals who work with students in STEM. We not only received data that showed a decrease of females in STEM fields, but we also tried some fun activities and shared information that could improve those statistics. Scigirls portrays real girls doing real science and engineering. http://www.pbs.org/parents/scigirls/activities/
The National Girls Collaborative Project, based in Lynwood Washington, has resources and partnership grants that are very helpful. They have divisions throughout the United States. Its newsletter provides information about what is happening nationwide in Stem for girls and is filled with ideas and helpful contacts. www.ngcproject.org
Another site with good information is GEMS Club: Girls Excelling at Math and Science, an after school program for upper elementary and middle school girls. GEMS was started in 1994 by an amazing teacher, Laura Reasoner Jones, who became concerned when her daughter did not want to attend a magnet school because "math is hard". Activities, advice and a tool kit for starting a club can be found at: http://www.gemsclub.org/index.html
And of course, GoldieBlox, the toy company started by an engineering graduate from Stanford is bringing great attention to STEM and girls. Started less than two years ago, the excitement and discussion that this small company has generated has been wonderful to watch. The company's goal to "disrupt the pink aisle" in toy stores and provide building toys for girls that combine story telling and spatial awareness is refreshing.
http://www.goldieblox.com/pages/about
It is exciting to see what is being developed to address the gender gap in STEM.
We are hopeful that more companies will take notice and provide
materials for girls that are not colored with preconceived ideas about what girls like or do not like. We both have daughters (grand total five!)…all grown up now and successful in their chosen fields- computer science, medicine, biology research, engineering, and education. Some liked pastel colors and some did not. Some liked dolls and princess things and some did not. But what we are happy about is that they felt they had a choice in the matter. Let's make sure that Madison Avenue does not put limits on what girls can do and restrict the ability to choose. We should encourage all children to explore the joy of science, engineering or whatever else interests them in life. Whether they want to wear a tiara or a hardhat.