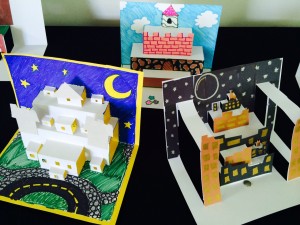 It is 10:30 AM at the Bellevue Arts Museum near Seattle, Washington, and a small group of elementary students are busily creating and problem solving so that their catapult will launch a paint ball at a canvas. Another group is working on a three-foot high paper rollercoaster that will shoot a marble through a loop and keep it on the track. Still another group is analyzing the design of their suspension and arch bridges. Off in a corner, four campers are building self-drawing robots with motors, felt pens and plastics cups. The room is a beehive of collaborating, creating, inventing, persevering, and problem solving. The room is filled with STEAM – science, technology, engineering, art, and math….and everyone is having a wonderful time! The FULL STEAM AHEAD camp at the art museum is a success…no doubt about it!
"Steam" takes its name from a movement by the Rhode Island School of Design and has been widely adopted by schools, businesses and policymakers. STEAM promotes the concept that innovation in the STEM subjects is enhanced through the arts. This year Annie Tremonte ran the summer children's art program at the Bellevue Arts Museum and collaborated with Get Caught Engineering to create a week of STEAM activities that would capture the imagination of 8-12 year olds. Once announced, the sign- ups doubled and it became evident that more "hands on deck" would be needed for the large group of children who wanted to attend. With Wendy from Get Caught Engineering, Joann, an intern from Ireland, and Annie, the museum's summer art educator, working together with the children, it was a whirlwind week that culminated in a gallery showing for the parents and relatives with over ten completed projects! To keep parents up to date with all the activities, a newsletter with pictures was sent to parents each evening.
The week was organized around various science and engineering concepts that were integrated with an art and design concept.
Day One:
Force, Motion, Gravity, and Friction with System Engineering
Foil Tower Ice Breaker
Rube Goldberg Silhouettes
Paper Roller Coasters Designs and Plans
Day Two:
Gravity and Force/ Structural and Materials Engineering
Suspension and Arch Bridge Building inspired by the children's book The Monsters Under the Bridge
Paper Roller Coaster Framework
Pop-Up Books and Paper Engineering Designs and Inventions
Day Three: Simple Machines: Potential and Kinetic energy/ Mechanical Engineering
Grabber Extensions Creations Designed with Levers
Catapult Paintings
Marshmallow Pop Cups
Paper Roller Coasters' Tracks, Tamps and Loops Designs
Alexander Calder Inspired Mobiles
Day Four: Circuits and Magnets/Electrical and Robotic Engineering
Art-Bots
Bristle Bots
Snap Circuits Spin Art
Paper Roller Coasters Towers
Day Five: Circuits/ Electrical Engineering
Squishy Circuits Monsters
Completion of week's projects
Gallery Showing of Projects for Parents
So what is so great about STEAM? Why should we be integrating art with STEM? The best correlation we can make is with cellphones. We all remember the original cell phones that were huge and looked like something we would take into the field for a military invasion. As the technology improved, so did the design of the cell phone. As the design improved, so did the interest by the general public. And when Apple introduced the iPhone we all were captivated. Not only did it have amazing technology advances but it was also sleek and pleasant to hold and use. It was the culmination of science, technology, engineering, and math with art.
STEAM+ART +=STEAM. Scientists, engineers, and artists have much in common. As we prepare our students to be 21st century learners we need them to realize the connection between the fields. And besides…it makes it all fun!
Need some resources?
From STEM to STEAM: Using Brain-Compatible Strategies to Integrate the Arts Paperback– March 5, 2013
by David A. (Anthony) Sousa (Author), Thomas J. Pilecki (Author)
No Permission Required: Bringing STEAM to Life in K-12 Schools Paperback– April 3, 2014
by Susan M. Riley (Author)
STEAM Point: A Guide to Integrating Science, Technology, Engineering, the Arts, and Mathematics through the Common Core Paperback– December 9, 2012
by Susan M. Riley (Author)
We hope you "Get Caught Engineering" !
Wendy and Cheryl