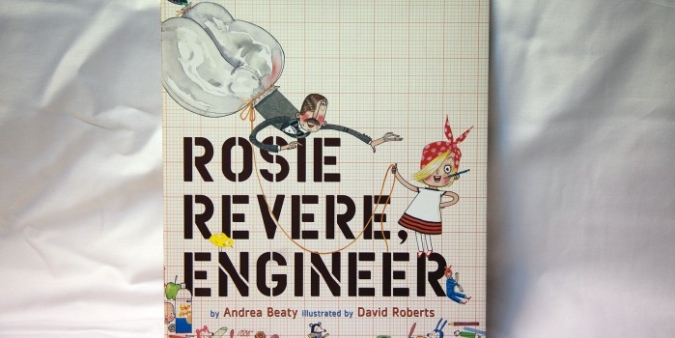 We are always on the look out for a good read aloud for engineering and STEM.
We are excited that we are starting to see an increase of publications on this topic.
Recently we read about a new book about a girl who liked to invent and we were eager to check it out. When it arrived, we were not disappointed!  WOW!
Rosie Revere Engineer, written by Andrea Beaty and illustrated by David Roberts, tells the story of a little girl who spends her time inventing gizmos and gadgets while dreaming of becoming an engineer. As often happens to children, her inventions were not always appreciated and sometimes did not work. She became discouraged, hid her inventions and eventually set aside her dreams. With encouragement from her great great aunt who applauds her efforts, Rosie learns to persevere and use failure as a learning tool during the design process.
With a clever reference to Rosie the Riveter and the slogan "We Can Do It!" from World War II fame, Rosie is an inspiration to elementary children of all ages, especially girls. This is a must read for your class and a wonderful addition to your library. The rhyming dialogue and delightfully detailed drawings will capture your students' attention as they watch Rosie struggle and eventually succeed in her endeavors. It will spur great discussions about not only engineering, but also staying true to your dreams and persevering through difficulties. Get this one!!!