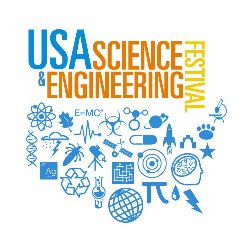 April showers bring May flowers….and April STEM events will bring May classroom excitement. This year, the month of April begins with the NSTA National Conference and ends with the USA Science and Engineering Festival. Perfect!
If we had a magic wand right now, we would wave it over your head and send you to The National Science Teacher Associate's Conference in Boston. Not only are their conferences the most amazing congregation of science and STEM professionals, but the wealth of ideas, inspiration, freebies, and creativity is beyond anything else that you can find in one place. The sharing of ideas is absolutely amazing.
Six years ago we attended the NSTA national conference in Philly. The first session we went to was on children's engineering. We looked at each other, high fived, and knew we had found our calling. We spent the rest of the conference finding every session we could find on children's engineering and stayed up very late planning how we were going to implement these great ideas in our school. One thing led to another over the past few years and look where we are now! And it all began at a NSTA conference.
This year's conference, in Boston, this week promises to be an exciting event. Choices will include over a thousand sessions and workshops plus special speakers such as Mayim Bialik and Bill Nye, as well as wonderful events such as a free night at the Boston Science Museum and The Elementary Extravaganza. And did we mention the venues? The exhibit area could fill a football field with just about everyone connected to science having a booth with freebies, handouts, drawings for amazing prizes, and enough conference bling to fill bags (one should always bring an extra suitcase).
We are looking forward to presenting twice this year in Boston:
• Elementary Extravaganza : April 4, from 8:00-10:00 am
If you are attending, stop by the Get Caught Engineering table and check out our hands-on STEM activities for elementary children.
• On April 5th, from 11:00- 12:00 visit our session: "Fun Family STEM Learning Experiences Created by Community Partnerships". We will be presenting with Mia Jackson of Family Engineering in Portland, Oregon.
Now, fast forward to the end of April in Washington DC. The USA Science and Engineering Festival will be at the Washington Convention Center from April 26-27. This will be the third annual festival and it is the largest STEM education event of its kind in the United States. We had a booth in the past two festivals and were stunned at not only the amazing exhibits we saw, but also the number of people that attended. This year we are not going to run a booth but will put on our guest hats and savor every minute as an attendee. The exhibiters and the guest speakers are going to be amazing! The largest celebration of STEM in the nation will kick off with 3,000 hands-on exhibits, 150 stage shows including science celebrities Bill Nye The Science Guy, Dr. Michio Kaku and science rock band They Might Be Giants, the Festival Book Fair, teacher workshops and so much more!! DC in the spring is always wonderful and this makes it even better. Check it out at: www.usasciencefestival.org