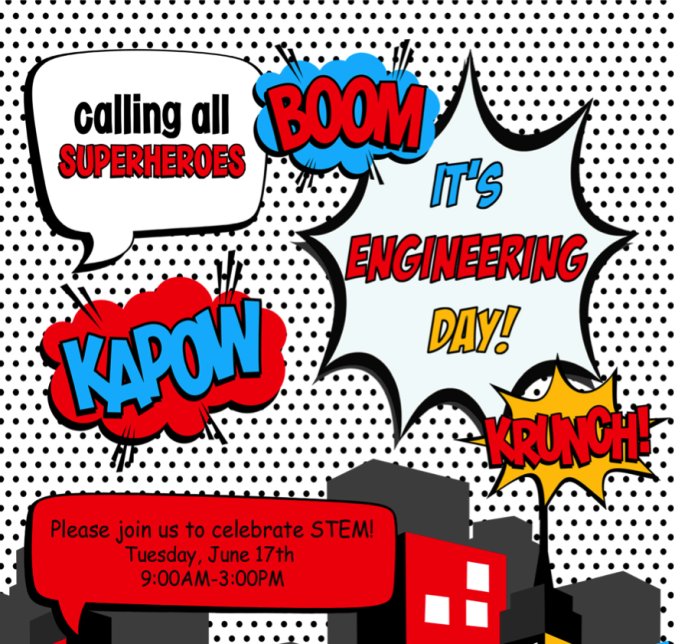 Invitation from : https://www.etsy.com/shop/LuLuPaperPrints
How does Ironman's helmet keep him safe from harm, yet remain comfortable to wear? Is it really possible for a human being to spin a web capable of snaring evildoers just like Spiderman? What if Captain America needs some help retrieving his shield?
Recently, the entire student body at our school devoted one day to designing, constructing, and testing superhero projects. Fun? You bet! But this wasn't child's play. The activities were carefully designed and coordinated to teach the principles of science, technology, engineering and math (STEM) to young inquiring minds.
On Superhero Engineering Day every class had a superhero project.
• Kindergarteners invented ways to save Captain America's shield after it had dropped into the ocean.
• 1st graders built prototypes of chairs that could support the supersized Incredible Hulk.
• 2nd graders created a building out of index cards that would support Superman (in case he needed to rest.)
• 3rd graders solved the challenge of creating extra Spiderman webs.
• 4th graders used materials engineering to protect a water balloon that was substituting for Ironman's head
• 5th graders thought like aeronautical engineers to design a glider for Batman
• 6th graders engaged in systems engineering to create Rube Goldberg contraptions to assist the Avenger team.
The Superhero STEM challenges didn't end there. Breaking eggs – or better yet protecting them – is all about physics. Every student participated in an egg drop contest to see if their structural designs could protect against acceleration and force.
Students chanted, "Drop That Egg" and held up signs saying " Eggs of Steel" adding to the ambiance and excitement.
And ALL grades built and launched straw rockets in the gym using the Pitsco Straw Rocket Launcher. Primary grades enjoyed hearing a read aloud of the wonderful picture book: Rosie Revere, Engineer by Andrea Beaty and David Robert after making masks and capes with logos of their own superhero design.
As organizers, our first challenge required creating a schedule to make it possible for all grades and classes to participate. An all-school staff meeting was required to explain the program, hand out lessons and review schedules. During the days leading up to the event, materials were pre-organized and delivered to each grade in advance. Our homemade video was shown repeatedly during the week leading up to the event to inspire the students to think like superheroes when faced with difficult problems.
Luckily the market is flooded with inexpensive super hero posters and party supplies, so decorating was easy. The colorful comic book décor really got the kids excited! Primary teachers loved the idea of students creating capes and masks.
The online supply company Oriental Trading carries a wide variety of super hero supplies including inexpensive masks that could be decorated. For capes, plastic garbage bags were trimmed in half. Using construction paper circles and clear shipping tape, ever child was able to create their own original superhero character. Our favorite was "Mistle Man" We weren't sure whether he was meant to be a projectile or a sprig of holiday foliage, but the student swooped through the day with style.
Superhero STEM Day was a huge success and provided our school with a great STEM celebration. If you would like to hold your own Superhero Stem Day we have several resources to help.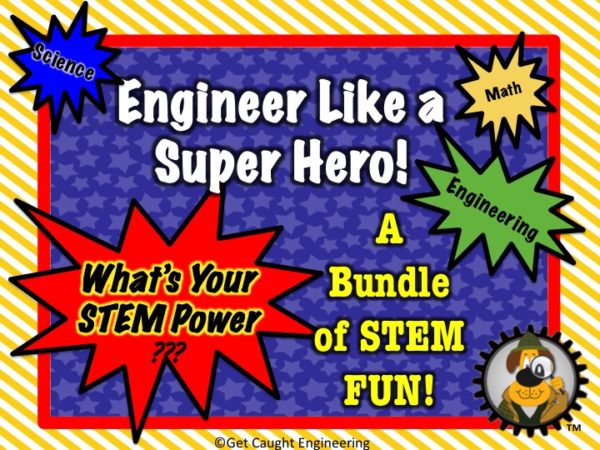 We have a bundle of our lessons posted on our TpT store that will get you off to good start:
http://www.teacherspayteachers.com/Product/Engineer-Like-a-Superhero-Whats-Your-STEM-Power-1287858
Other resources that you may find useful include:
http://gemsclub.org/yahoo_site_admin/assets/docs/engineeringsuperpowersfinalresourcepack.4394741.pdf
http://ed.ted.com/series/superhero-science
http://www.edutopia.org/blog/superhero-science-autumn-crisp
http://www.popsci.com/entertainment-gaming/article/2008-01/science-superheroes
https://www.etsy.com/listing/154903907/superhero-invitation-printable-birthday?ref=shop_home_active_4&ga_search_query=superhero
Questions? Please contact us
Getcaughtengineering @gmail.com
We would love to help you "Get Caught Engineering"!
Wendy and Cheryl