Brainy Zany Contraptions
As children we loved a game by Ideal toy company called The Mousetrap Game. Based on Rube Goldberg's creative ideas of complicated systems for solving a simple problem, the game actually was a captivating engineering exercise that utilized simple machines and creative problem solving.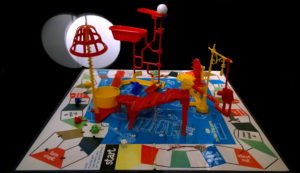 Over 50 years later, the game is still available and still intrigues students as they try to solve the challenges. Simple machines, engineering, and inspiration from Rube Goldberg provide a wonderful combination for STEM problem solving challenges. Critical thinking, perseverance and application of physical science concepts are just some of the skills that can be developed in this game and other STEM contraption activities.
Over the years we have also loved the Rube Goldberg inspired contraptions that have been included in movies from Back to the Future 's opening scene and its complicated way of feeding the dog, to the Home Alone devices to foil the robbers and the Honey, I Shrunk the Kid's gadgets and mechanisms. Even Buzz Light Year in Toy Story used a Rube Goldberg sequence to show he could fly. Amusing to watch and filled with suspense, one can't help being mesmerized while waiting for the next thing to happen and being delighted when it really works.
Creating contraptions inspired by Rube Goldberg is all about physical science and simple machines. Although humorous, they actually follow a logical sequence that takes into account force, motion, gravity and inertia. The cartoons he drew, available on-line, are a great way to introduce a simple machines unit. Another mesmerizing opener for a unit is the YouTube video created by Ok Go for their song "This Too Shall Pass":
Trust us, your students will want to watch it several times to see all the amazing steps that were engineered. (We love watching the engineers in the balcony cheering at the end!)
RESOURCES
We are always looking for literature that will support integration of the STEM concepts we are currently teaching. The following books and calendar captured our attention recently for a literature component of a simple machines and contraption invention unit: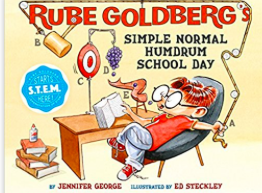 Rube Goldberg's Simple Normal Humdrum School Day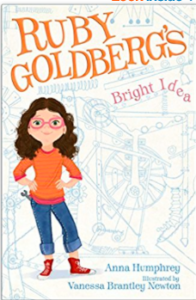 Ruby Goldberg's Bright Idea
The Invention of Hugo Cabret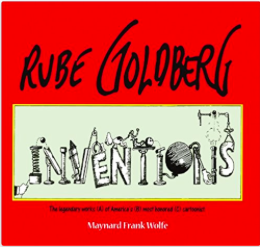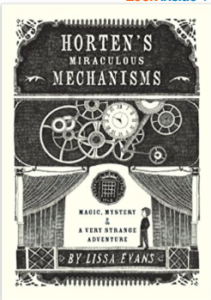 Horten's Miraculous Mechanisms: Magic, Mystery, & a Very Strange Adventure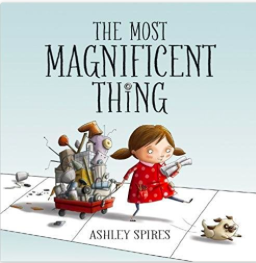 The Most Magnificent Thing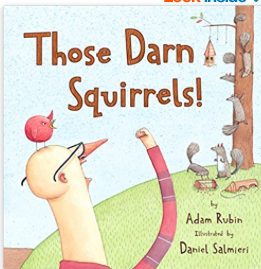 Those Darn Squirrels!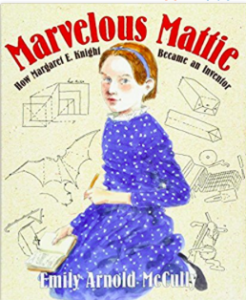 Marvelous Mattie
Our students have also enjoyed these contraption games.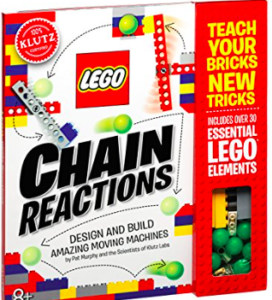 Klutz LEGO Chain Reactions Craft Kit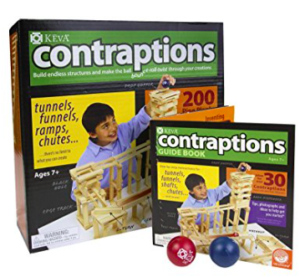 KEVA Contraptions Plank Set
In addition these websites are good resources for Rube Goldberg ideas.
TeachEngineering (lesson and video) Rube Goldberg and Simple Machines
Rube Goldberg Educational Site and Contest Rube Goldberg Lessons and Contest
Rube Goldberg Biographical Site All About Rube Goldberg
Once your students are inspired they will be eager to try creating their own Rube Goldberg-style machines. We have a ready-to-go activity on our Teacher Pay Teachers site that has student handouts and teacher notes. Engineering contraptions is a fantastic way to review simple machines and forces of energy. In our packet, students start with the simple process of pouring water into a cup and figure out ways to add numerous steps to the task.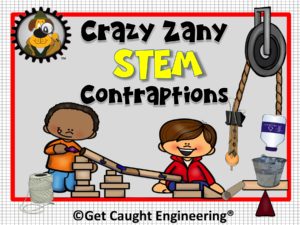 Don't want to actually build a contraption? Drawing a machine can lead to some good discussions about force and motion as well as provide a creative environment where the only thing limiting them is their imagination. Using bowling balls, large swings, and teeter-totters might not be possible in the classroom but are easily included in an illustration. One idea that works well is to provide each student with a silhouette outline of their head. In the outline, have them draw a favorite activity and then work backwards to add unique steps to perform the task. This makes a great display for a parent open house and is a keepsake that the families will love.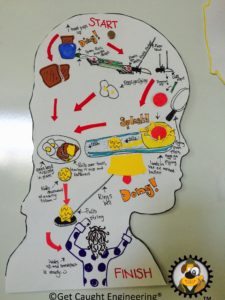 And if you are really ready to jump in, there is a Rube Goldberg contest for ages 11 and up. This year's task is to shine a shoe. Registration begins on September 15th and can be located at:
FREE Rube Goldberg Anniversary Poster (limited amount)
January 13- February 13, 2018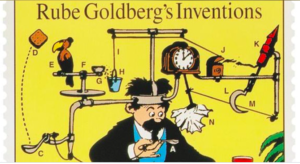 Free Rube Goldberg Anniversary Poster
Whether you draw, build, read about it, or just enjoy the videos, exploring creative contraptions will provide plenty of brain push-ups and inspiration for STEM.

We hope you and your students "Get Caught Engineering" soon.
Wendy and Cheryl
NOTE: We are a participant in the Amazon Services LLC Associates Program, an affiliate advertising program designed to provide a means for us to earn fees by linking to Amazon.com and affiliated sites. The fees provide a source to support our costs of maintaining this website.
SaveSave
SaveSave